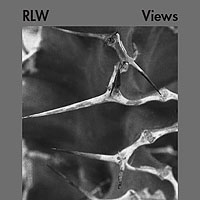 NOM27 CD, $14.00
Add to Cart


RLW
Views
In the 25th year of Ralf Wehowsky's recording career, Anomalous Records presents his first truly solo release featuring four new compositions based on instrumental improvisations. Using simple devices (tone-generators, percussion toys, music boxes, an electric toothbrush and an electric guitar) played in unusual ways, he builds up layers of each sound to create a suite of textural pieces. Each of the four tracks takes on an identity unique from the others, as the first three each focus on one of the sound sources while the last combines elements from the previous three to make something else. The disc opens with a 20-minute piece of mysterious and drifting electronic tones. Other tracks highlight very tactile sounds and bring a much more 'live' element to his work, while retaining his skillful use of dynamics and placement of silence which have gained him so many fans. Previous releases by RLW have seen him collaborate with such diverse artists as Achim Wollscheid, bernhard günter, Andrew Chalk, David Grubbs, Jim O'Rourke, Kevin Drumm, and Bruce Russell. He is the founder of the now defunct group P16.D4 and the still active label Selektion. Other releases of his work have appeared on Table of the Elements, trente oiseaux, Streamline, Perdition Plastics, Swill Radio, Meeuw Muzak, and Metamkine.
---
After a recording career that already stretches over 25 years, involving collaborations with Achim Wollscheid, Bernhard Gunter, Andrew Chalk, David Grubbs, Jim O'Rourke, Kevin Drumm and Bruce Russell, not to mention his own P16.D4 ensemble, Ralf Wehowsky finally presents his first solo collection. Presented without titles but with detailed notes on the methods and practices behind each, the four tracks represent subtly shaded perspectives on studio performance and procedures.
Spontaneous event and reconstruction shadow each other closely here. Four self-programming occillators, controlled by wheels rather than a keyboard, interact to create a densely striated corridor or sound on the protracted opening composition. Shorter, more understated but no less arresting, the next two pieces have the feel of secret rituals conducted in private. On the first, four spontaneous musical actions, mostly involving Orff percussion instruments designed for children, are reworked into a profoundly meditative sequence, marked by the chiming of bells. The second, in which two music boxes are manipulated, squeezed and muted, transforms the mechanistic renderings of half-forgotten tunes into a series of encrypted memories. Coming in on a single thin line of feedback, the fourth and final composition combines elements of the previous three, plus recordings of electric guitar run backwards and forwards into an uncluttered but complex series of structures and interactions.
Serious minded yet subtle, unhurried and unforced, Views is a work of deep coherence, vitality of content and unquestionable richness. - Ken Hollings in The Wire issue 243 May 2004
There was a time when RLW, which stands for Ralf Wehowsky, was a buzz name. From his previous band P16.D4, he developes since the mid nineties a strong solo career aswell as many collaborations with people like Jim O'Rourke, Kevin Drumm, Bernard Gunter, Duimelinks/Meelkop. But in more recent years his release schedule was less hectic and now we have 'Views'. Everything on this CD is made by RLW with no input from anybody else. His source material includes tone-generators, music boxes, toys, electric guitar and toothbrush. Each of the four pieces here consist of RLW improvising three or four times his sounds on to the computer, and creating a mix afterwards. In the opening piece, '#1' he only uses tone generators, by which he creates quite densely layered patterns, that come in quite a chaotic way at one point - unlike much other RLW material. In '#2' he uses the Orff instrumentarium (percussive instruments for children), which he jams around and this is much more his territory: carefully hoovering on the edge of silence. Something similar goes in '#3', but here it deals with the hallucinating simplicity of music boxes. These two quieter pieces are the total contrast of '#4', which uses various feedback recordings of the two previous tracks and some added guitar sounds - a fiery noise piece, which is again an unlike RLW piece. Quite a strong CD, with some surprises for the RLW devotee. Moving inside aswell as outside of his usual music, this is quite a step forward.
Frans de Waard in Vital Weekly 413
RLW's "views" was a great addition to both anomalous's and ralf's discographies! coming out almost at the same time as the 'sights' cd w/ bruce russell this cd is a totally enjoyable rlw one! ralf over here I believe that plays a lot with words and ideas. having recorded it in 2003, starts with a piece utilizing a tone generator in a way that reminds a lot of more classic electroacoustic/avant garde musics of the 50's or even say obscurities of the 80's of these genres but in such a fresh way that sounds truly superb! the second consists of 4 instant improvs he did in his room and then mixed/manipulated making a piece that will do to people who are into the more current new improv scene, the third one was done utilizing 2 music boxes and some other crap he found lying around and turned to be a more 'childish' piece of the cd but in a really beloved mood (you know absurd's love for musical boxes) and finally the final part which is actually a reutilization of the first part but presented in the more current electroacoustic musics standards that closes as a real blaster this cd and personally believe that is worth to discover and check out!!!! bravo ralf! -
Nicolas in absurdities#10