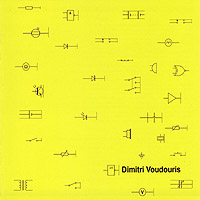 21056-2, CD, $14.00
Add to Cart




Dimitri Voudouris
ΑΛΘ=Φ / UVIVI / 1:ΘΦ4 / ΟΝΤΑ
Pogus is very pleased to release its second recording by composer Dimitri Voudouris, a South African composer of Greek birth. As Massimo Ricci wrote in his Touching Extremes review of the first Pogus release:
"Voudouris is interested in the 'research of cognitive psycho-acoustic behavioral patterns in humans and the behavior of sound in relationship to continued environmental changes'. Don't let the composer's difficult description fool you into thinking about some kind of cerebral pretentiousness, though, as this album contains instead four magnificent examples of his approach, music that's always challenging and, in many of its expressions, of extraordinary beauty."
This description applies just as well as to this new recording. ΑΛΘ=Φ (for text to speech synthesis with computer assisted processing for 24 speaker interactive robotic ensemble) is a comparative study of pathways in communication between Man and Machine and is composed using fragments of processed speech synthesis; UVIVI is a computer music piece that is Voudouris's fourth work that was composed for contemporary dance theatre. UVIVI originates from Zulu - meaning "daybreak". This computer music composition focuses on linearity and infinite memory in the kinetic flow of vehicular traffic. Four languages were chosen to represent the composition of 1:ΘΦ4 (singing synthesis for four artificial female voices) namely Greek, Spanish, Portuguese and Italian. ONTA (for voice and electronics) is a project that discusses the daily tensions encountered and focuses on the energy building up, exploding, or imploding from these tensions in the city, be it organically or inorganically created; this promotes musical creativity integrated into everyday life, of familiar places and natural behaviours.
Dimitri Voudouris (born 1961) is a self-taught composer who began composing in the 1990s. He composes for acoustic instruments, electronic sound sources, and multimedia - including dance and theatre. Voudouris bases his technical and theoretical compositional approach on research of cognitive psycho-acoustic behavioural patterns in humans, and the behaviour of sound in relationship to continued environmental changes. These theories help to create moments of isolation allowing for the morphological study of each individual sound source, a strategic necessity that brings a degree of order and allows for the creation of various building blocks used in the construction of micro-environments that intern form the backbone of his compositions. His socio-cultural interests have led him to research the survival of music in the 21st century and the impact that media and technology have on the composer.
Also available:
Dimitri Voudouris - NPFAI.1/PALMOS/NPFAI.3/PRAXIS (Pogus 21043-2)



Reviews