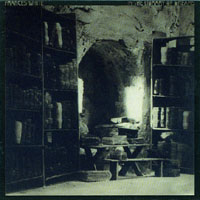 21064-2, CD, $14.00
Add to Cart

Frances White
In the Library of Dreams
Choshi (traditional) - Ralph Samuelson, shakuhachi; The ocean inside - eighth blackbird; Walk through Resonant Landscape No. 5.1; In the library of dreams - David Cerutti, viola d'amore; Walk through Resonant Landscape No. 5.2; The book of roses and memory - Liuh-Wen Ting, viola; Thomas Buckner, narrator
I was going to write about how this is an absolutely beautiful - and disturbing - record, but I think quoting from the liner notes of James Pritchett really does sum it up.

"Frances White invites us to take a walk through her Resonant Landscape. Where are we going? We are walking through the woods, marshes, and streams of New Jersey. She points out the birds and frogs that make their home there, the water that flows through it and the wind that shakes the trees. But then we turn and there is that other sound world, the one in which these woodland sounds are transformed, or in which we find sounds altogether new: spectral birds singing to us through a sparkly haze; distant colored winds, like the breath of giants; the air around us, alive, charged with long, low drones and sudden electric crashes.

There is something magical about this other world, and (like most magic) there is something disturbing here as well. We move between the two worlds almost at random, bumping into one sound after another. We find ourselves rising off the path and floating, then falling abruptly into silence, reappearing in a marsh full of geese and blackbirds. This is more than a sonic postcard from Princeton: it is a journey into the inner world of Frances White. We could call it an electroacoustic dream drawn from her memories of hikes in the woods. As in a dream, real experience is placed in a surreal context, a play of inner and outer. We fill in the gaps, supplying connections among the random fragments of reality, memory, and imagination.

This gets to the heart of White's music. She has made a body of work in which she takes the real, brings it into her being, transforms it there, and then brings it out again in her compositions. Technically, she works by using the computer to manipulate recorded sounds and to synthesize wholly new ones. She mixes her timbres by hand as a painter would mix colors, and she applies them lovingly and painstakingly to her canvas of silence. But the power of her work comes from her ability to take listeners on journeys through her inner sense of sound, finding something luminous, exalted, dramatic, and at times frightening there. Her music is like the work of dreams, both the pleasant ones and the nightmares. It is not by accident that Gus Van Sant set the calmly-executed bloodbath of his film Elephant to one of White's Walks through 'Resonant Landscape'. White's unsettling juxtapositions of real and imagined sound work well with Van Sant's matter-of-fact treatment of almost unwatchable violence."

Frances White studied composition at the University of Maryland, Brooklyn College, and Princeton University. She has received awards, grants, commissions, and fellowships from organizations such as the Guggenheim Foundation, Meet the Composer, the Alice M. Ditson Fund, the Mary Flagler Cary Charitable Trust, Prix Ars Electronica, the International Computer Music Association, ASCAP, the Bang On A Can Festival, and the Other Minds Festival. Ms. White's music can be heard on CD on the Wergo, Centaur, Nonsequitur, Harmonia Mundi, and Bridge Records labels. A CD devoted to her chamber works, Centre Bridge, was released in August of 2007 on the Mode label. Ms. White's music was featured as part of the soundtrack of three of Gus Van Sant's award-winning films: Elephant, Paranoid Park, and Milk.


Reviews