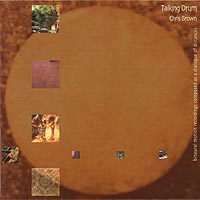 Pogus 21034-2 CD, $14.00 US
Add to Cart
Download from iTunes
Download from Rhapsody

Chris Brown - Talking Drum


Binaural motion recordings composed as a dialogue of distances. Live recordings of music for electronic network music ensemble juxtaposed with location recordings of traditional music and environmental soundscapes. Made in Bali, the Philippines, Turkey, Europe, Cuba and America 1991-99.

This compilation/composition documents nearly a decade of work that began with the recording of dense sonic environments, both 'natural' and urban. Talking Drum is an interactive installation made with four networked laptop computers programmed to explore cyclical polyrhythms in large acoustic spaces. While the performance of the entire system is synchronized by one computer, each computer station generates independent results using genetic-programming algorithms which are affected by acoustic musicians' performances. Each station in the space "grows" its own rhythmic response to the situation, like similar plants growing differently in adjustment to their locations in an environment. The musicians improvise with the rhythms, interacting with the response of the computers they play next to, and the whole is a quartet of these human-machine duets.

This recording compiles moments from these performances, and the recordings that inspired their creation, into one continuous piece. Electronic music is normally thought of as a medium emphasizing unlimited access to timbre - I think this is often over-emphasized, and that, at its best, it changes our experience of space. The traditional African talking drums are played held under the arms so that their laces can be squeezed to change the pitch of the drum-head as rhythms are played. The changing pitches and rhythms imitate patterns of the tonal languages of West Africa, and can be used like musical telephony to communicate over long distances. This recording follows this design, creating conversations between different places, environments, people, rituals, and parties on a global scale.

Chris Brown (b. 1953), composer, pianist, and electronic musician, creates music for acoustic instruments with interactive electronics, for computer networks, and for improvising ensembles. Born and raised in Chicago, he moved to California to study electronic music with Gordon Mumma and composition with William Brooks at Univ. of California/Santa Cruz, and with David Rosenboom at Mills College. He was active early in his career as an inventor and builder of electroacoustic instruments; he has also performed widely as an improvisor and pianist with such groups as "Room" and the "Glenn Spearman Double Trio". In 1986 he co-founded the pioneering computer network music ensemble "The Hub". He is also known for his recorded performances of music by Henry Cowell, Luc Ferrari, and John Zorn. He has received commissions from the Berkeley Symphony, the Rova Saxophone Quartet, the Abel-Steinberg-Winant Trio, the Gerbode Foundation, the Phonos Foundation and the Creative Work Fund. His recent music includes the poly-rhythm installation "Talking Drum", the "Inventions" series for computers and interactive performers, and the radio performance "Transmissions" series, with composer Guillermo Galindo. His 1992 epic electroacoustic work "Lava", for brass, percussion, and electronics is also available on Tzadik. He teaches Composition and Electronic Music at Mills College in Oakland, where he is Co-Director of the Center for Contemporary Music (CCM).



Review



Listen (Mp3)