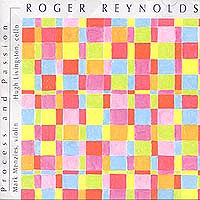 Pogus 21032-2 2 CDs, $14.00 US
Add to Cart
Download from iTunes
Download from Rhapsody

Process and Passion- Roger Reynolds
Mark Menzies, violin; Hugh Livingston, cello


This is a recording that explores the "extra"-ordinary potential of the CD not only as a carrier of traditionally recorded instrumental sound (CD 1), but also offering a different view through binaural encoding of the same materials spatialized (CD 2).

First you are presented with two solo compositions-Kokoro and Focus a beam, emptied of thinking, outward…-and the duo Process and Passion, in an acoustic recording, albeit with each instrument deliberately confined to one side of the stereo field. Then all three pieces are presented with extravagant sound processing, using spatialization concepts and binaural encoding, revealing unsuspected depths and energies within the sound of each of the pieces' ideas and unfolding.

"Architectures of sound"-meaning how things sound-form the shape of the compositions' emotional traversal. For the two solo pieces, this is a relatively simple idea: Kokoro (the violin solo) has twelve sections that are in every way timbrally/sonically/articulatively unique from one another. Focus a beam, emptied of thinking, outward… (the cello solo) provides an organic unfolding, nevertheless revealing the dynamic potential of its basic material development-contrast grows out of the unfolding. But the duo Process and Passion draws further complexity to this world, partly by being a stated collage of the two solo pieces' worlds, but also by having an outside, visceral-even scary-narrative gravitational pull. Poetic text excerpts are drawn from Reynolds' explorations of the Oresteia, but they are left out of the final score.

It is hoped that the binaurally encoded disc included in this set will suggest to the solitary listener, in the comforts of his or her own headphones, how powerfully a choreographing of musical lines and gestures can dimensionalize musical experience. This realm and its satisfactions are only now coming into reach.



Review

Listen (Mp3)