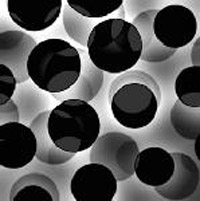 NOM23 CD, $14.00
Add to Cart


Phillip Sanderson
Reprint
Originally released on cassette by Snatch Tapes in 1980 and credited to the psuedonym "Claire Thomas & Susan Vezey". Claire & Susan were in fact a figment of Philip Sanderson's, Snatch Tapes founder, imagination. On the sleeve the music is described as "a study in repetition & change using two different sources & two different treatments...".
This CD reissue contains bonus tracks not on the original cassette. Edition of 500 copies. Reprint was originally released on cassette by Snatch Tapes in 1980 and was credited to an unknown duo called Claire Thomas & Susan Vezey. A press release accompanying the cassette painted a picture of two pre-Raphaelite synthesiser knob-twiddlers who in between repatching their VCS3's went for long walks in flowing robes on Blackheath.
Intrigued, the record label Cherry Red included the duo on their compilation LP "Perspectives and Distortion" alongside such luminaries as Matt Johnson, Virgin Prunes, Lol Coxhill, Lemon Kittens, Eyeless in Gaza, Mark Perry, Ben Watt, Thomas Leer, Morgan-Fisher, Robert Fripp, and David Jackman. Cherry Red furthermore wanted to release an LP by Thomas & Vezey. Until they realised that all was not as it seemed.
Claire and Susan were in fact a figment of Snatch Tapes founder Philip Sanderson's imagination. In addition to running the label, Philip was one half of the DIY electronic group Storm Bugs, and regularly collaborator with a then unknown musician by the name of David Jackman (one of these tracks they did together was recent issued on a 10" by Die Stadt). "Reprint" was in effect one of his few solo recordings.
The first track Bright Waves (an earlier version of the track on the Cherry red LP) with its fragile wispy vocals that blow in and out on a tape delay breeze certainly adds credence to the Claire and Susan subterfuge. However the rest of the music on the CD suggest that this was more than a situationist prank. The description on the sleeve of the music as "a study in repetition and change using two different sources and two different treatments..." was a nod towards the materialist approaches being used during the 70's in most (fine) art forms.
"Reprint One" and "Reprint Two" use the loop formed by a tape delay to build up busy percussive patterns. Recorded live, the VCS3 triggered by a sequencer feeds in a set of constantly chattering rhythms. As the loops pass repeatedly over the tape heads the sound gradually degrades turning eventually into pure white noise. What starts out as a polyrhythmic perversity, somewhat akin to electronic tap dancing, builds into a wall of sound.
Also here is the piece "Under Press of Sail" (which was featured on the compilation "Snatch 3" and the "0° North" tape by David Jackman and Philip Sanderson), and the secret bonus track "Nein Nein Nein", which was only included a few copies of the original tape release of "Reprint". Unlike the other tracks, this was done in collaboration with fellow Storm Bug Steven Ball. Using a low-tech five-minute answer-phone cassette loop with the erase head disabled, the two built up a montage of sounds which were fed through a home-made ring modulator.
The music of Reprint is a peculiar combination of academic rigour married to an inverted pop art aesthetic. For whereas pop art incorporated the cheap intoxication's of consumer culture into the supposed lofty rooms of high art, here was an attempt to incorporate the form or perhaps just the smell high art into the low brutality of DIY electronics.
---
"Part shrewd marketing manoeuvre, part homage to Marcel Duchamp's alter ego Rose Selavy, DIY electronic pioneer Philip Sanderson donned the personna of Claire Thomas & Susan Vezey as two female electronic minimalists in the late 70's and early 80's. He kept up the charade long enough to land a Thomas & Vezey track on the 1980 Cherry Red compilation Perspectives and Distortion but was thwarted in his attempts to when the label discovered that Claire & Susan were not who they claimed to be. Sanderson subsequently released those recordings as the Reprint Cassette through his Snatch Tapes [actually the cassette release came first and was what lead Cherry Red to discover Thomas and Vezey], which published his other project Storm Bugs and a couple of recordings from the then unknown composer David Jackman. 23 years later the electronic din of Claire & Susan resurfaces, although the author is no longer hiding behind the pseudonym. Fortunately the music of Reprint (Anomalous NOM23) is much more than a giddy prank. Aptly described by Sanderson as 'an inverted Pop Art aesthetic', Reprint graft a grimy brutism culled from home made ring modulators and dismembered answering machines onto the sterile arepeggiations and polyrhythmic interplay of Cluster or Chris Carter's early productions. what may have been consigned to the dustbin of 1980's cassette culture turns out to be a marvellous find, as good as any of the recently recovered cassettes of recordings of Cabaret Voltaire or Throbbing Gristle." - Jim Haynes, The Wire
---
"An odd and interesting remnant of the 1980's DIY cassette culture finding its way to CD: Sanderson (who was also half of the Storm Bugs), creates a trippy tapestry of gurgling primitive electronics and drifting voices in a raw, but appealing-to-the-subconscious kind of way. The legend has it that he initially submitted material to the UK label Cherry Red under the guise of being two women (Claire Thomas and Susan Vezey), hoping to 'market' himself in an unusual way to grab the label's attention. It worked, and he (or rather 'they') wound up on a compilation record, but the gig was quickly up when Philip was discovered to be pulling the wool. Reprint was originally a cassette under Claire & Susan's moniker, and regardless of what name is on it today it stands as a great marker on the home-brewed experimental/electronic timeline. Glad to see Anomalous brought this back to the surface." - Brian Turner, WFMU Program Director
---
"Philip Sanderson's 'reprint' cd on anomalous, would have been a release that I would have underestimated if I hadn't listened to it a third time. I have to tell you the truth that when I first heard it was a few moments after having listened to the storm bugs cd, sanderson had issued, which no matter it started as a most promising one, later & thanks to the various styles that were changing in that compilation can't say that turned to be my cup of tea. so upon listening to 'reprint' after that turned out not to be a good idea. but let's not beat about the bush. reprint is the reissue of an old tape sanderson had issued on his snatch tapes back in early 80's, back then was credited to the unknown duo of Claire thomas & suzan vezey. The release's back cover includes the original tape artwork and the cd as well includes bonus tracks. starting w/ a haunting play of decomposed eerie voices, that seemed to me that probably back at that time mr. sanderson might have been obsessed with records such as popol vuh's 'hossiana mantra' (or at least this one comes in mind now) and the voice of djon yun (or another artist) as the whole result, sounds a lot like trying to achieve such an atmosphere w/ more electronics means. the rest of the tracks & actually the ones that appeared on the original cassette, are a unique 'game' w/ loops & electronics of that time, that frankly if were issued today am sure that there are lots of people who would have classified them as beautiful lo-fi noise electronics, or is the least explanation I can find for them, as they bring such beloved stuff in mind. the final track 'under press of sail' which initially appeared in various compilations of snatch tapes, is in a somehow different mood, a bit more 'rhythmic' well, don't expect of course electronica here, instead, a unique diy electronics industrialish atmosphere, of course pure original as was made on the right place & the right time, making the whole lot a purely enjoying listening!"
- Nicolas, Absurd