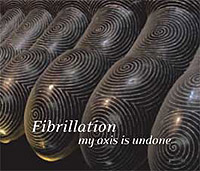 NOM22 3" CD, $12.00
Add to Cart


Fibrillation
My Axis is Undone
Holding a deep love of refraction in all things, luminescence at night, of childhood memories blurring with time..taking on their own significance through abstraction. Becoming aware of the animistic nature of the landscape via dissociative episodes, paranoia mutating into awareness. A series of dreams etching strong images deep into the mind long after waking, floating in dark blue water while looking at a glowing gold sky. The feeling of absolute *now* during an electrical storm. Using kirlian photography as postcards to communicate the vividness of a new space. All these things and more..
This collection of six pieces is the first official release by Fibrillation, following his appearance on the Anomalous Records compilation LP "Electrically Induced Vibrations". Constructed with great care, these will reveal many layers over repeated listening. Though he works largely in the realms of electronic music, no source is considered outside of his realm, and in fact many fragments of sound important to his life are incorporated in the complex weave of aural communication. Fibrillation aims to create a sound compliment to mental images and evoke important personal experiences. Each sound is in the place where it belongs to create the desired whole. So while initially, one may be taken in by the beautiful swell of warm harmonic drone that opens the disc, you will eventually find that below the surface there lies much more.
Packaged in mini-DVD case with full color cover and insert.
"Very decent piece of solo art electronica - heavy sounds melded with half-masked environmental recordings, all wrapped in a mysterious and intriguing piece of packaging by John Hubbard. Nothing is overly-processed and there is a strong sense of import, moment and movement behind each short exploration (it's only a 20-minute CD). The titles suggest exotic and foreign lands beyond the seas, alien worlds, and access point which are difficult to negotiate; but as the hero of the piece proclaims, his 'axis is undone', meaning his is a physical body not governed by the normal laws of space and time, and he will prevail. Adrift in the cosmos he freely roams, following neither longitude nor latitude, nor obeying the rules of gravity. A studied and considered set of dynamic compositions. Very dense and satisfying, in spite of short length; he packs more ideas into his allotted time than most." - Ed Pinsent in The Sound Projector: