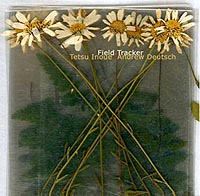 NOM9 CD, $14.00
Add to Cart


Field Tracker

Andrew Deutsch - bells, DSP, loops
Tetsu Inoue - guitar, DSP, bells

digital images - Jennifer Dworak
design - Deutsch

produced at the Institute for Electronic Arts, Alfred, NY

"Field Tracker" was recorded at the Institute for Electronic Art, Alfred NY during the Winter of 2000. Inoue, utilizing his digital sound processing systems in combination with bells, guitar, and other odd sound making objects, constructed tiny improvisational sound moments each one having a shape and gesture of their own. These "micro compositions" were at times highly abstract and noisy and at other times extremely melodic and calm. Many of these micro compositions were used in the production of his recent release "Object and Organic Code", the others (almost 2 hours worth) were handed over to Andrew Deutsch who was to construct another release combining sounds of his own. Being responsible for the overall "Auskomponierung" or "compositional unfolding" of the work, Deutsch combined synthesized sounds, drones, chatter, loops and other DSP techniques to produce what he hoped would be a kind of "Gebrauchsmusik" or "useful music" that one might use in the home. The work has a notion of "ambitendency" built into it, that is, the tendency toward change combined with an equal tendency toward stasis. The work could be described as "meta-divisionism", 'Baroque Minimalism", or "expanded systemic digital minimalism". Sound works for our new recombinatory world.
"A native of Tokyo, Japan, Tetsu Inoue is an ambient composer whose solo and collaborative works with the likes of Pete Namlook, Jonah Sharp, and Atom Heart are important documents of new school ambient and experimental electronic. Inoue began playing music in high school, starting on guitar in pop/rock cover bands. He began experimenting with synthesizers and early monophonic sequencers, inspired by the fusion of pop, psychedelic rock, and experimental electronic pioneered by groups like Pink Floyd, Tomita, and particularly Yellow Magic Orchestra, and by the mid-'80s was scoring for ballet and small dance groups. Tetsu Inoue moved to New York around 1986, securing an apartment before heading for an extended stay in San Francisco, where he played guitar in karaoke bands and began working with SF-based composer Naut Humon. He returned to New York soon after, continuing to amass demo material, and headed for Germany in the late '80s, where he met Uwe Schmidt (Atom Heart) and Pete Namlook. Although ostensibly on vacation, Inoue recorded his first work for release while in Frankfurt (Station Rose, a collaboration with Schmidt, on Cyclotron) and, upon his return to New York, began working with Namlook on a number of different projects. Although dabbling in dance music styles such as techno and trance during this period, he was moving increasingly toward strictly ambient composition, and Namlook's noted Fax label would release several of his albums through the early to mid-'90s. Most of his best solo and collaborative works appear there, including 2350 Broadway and Shades of Orion with Namlook, Electro Harmonix with Jonah Sharp, and Ambiant Otaku, Organic Cloud, and Slow and Low as a solo artist. His mature aesthetic centers around a fusion of by turns haunting and contemplative soundscapes layered with heavily treated samples and field source materials, and occasional, usually sparse percussion. It's most elegantly stated on such works as MU (with Atom Heart as Masters of Psychedelic Ambiance) and World Receiver." - Sean Cooper, All-Music Guide
Andrew Deutsch is a sound/ video artist who lives in Hornell, NY and teaches Sound Art at Alfred University. He is a member of the Institute for Electronic Art at Alfred University and the Pauline Oliveros Foundation Board of Directors (http://www.artswire.org/pof) Deutsch has collaborated with Pauline Oliveros on many projects over the past 7 years and is a regular collaborator with Peer Bode, Jessie Shefrin and Kevin McCoy on both sound and video projects. Deutsch's collaborative piece "The First Line" with Ann Hamilton was recently exhibited in the Whitney show "Bitstreams" and he is the founder operator of his Magic If label dedicated to experimental electronic music and hand produced packaging. Deutsch has music released on CDs through Magic If, Deep Listening Publications, and JdK.
a review from Aquarius Records:
"Mostly known for his deep space, ambient work that was released on Pete Namlook's Fax label, Tetsu Inoue has collaborated with Andrew Deutsch for an uncharacteristic album of recombinant computer music on par with the current algorithimic procedures of Kim Cascone. Inoue began to work on this album with DSP techniques in combination with bells and guitars to create a very gestural, but fragmented set of recordings. Deutsch continued along a like-minded DSP-plus-acoustic-instrument approach that continued to fragment the sounds, but under the condition that all of the sounds together would tend towards stasis. Rightly described by Deutsch with the paradoxical term, 'baroque minimalism'."
a review from Lucky Kitchen:
Tetsu Inoue and Andrew Deutsch "Field Tracker": Anomalous Nom 9 Seattle, WA
It hits you like flowers falling out of an airplane. With incredible attention to detail, the composition and sound treatments begin to feel more like slow mold than notes. At many points attention to mathematical harmonics begin to form musical phrases, but always this naturalistic chaos pours water and dust clouds into the staff. At one point chords on a guitar become bird chirps and back again.
Occasionally extreme twists remind me of its dsp production, and the effect is like using a low-grade resolution video camera to record a field of blowing sunflowers, then dipping it into a lake to watch its circuits spark into the depths.
More important than individual details is the flowing storyline. Constantly shifting in carefully metered patterns, each minute provides a small sound world that leads like a maze to the next. However, this tale is strangely devoid of character or landscape development. I would have liked more concrete suggestions on occasion to tie movements and details together. The work presents a very moving portrait of nature and people working together, but it remains slightly formal and detached. I'm not speaking in musical terms here: what is missing for me is commentary by the artists. Organic electronics is enough of a collision to generate seeds and question marks, but specific imagery is left out. I am left to intricacies of the CD and make up my own story.
Overall a fine, delicate and uncompromising work from two very intense artists. - a. bergman
This Land is Your Land
Spain 2002