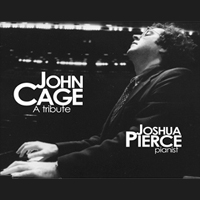 AG06 2 CDs, $30.00 US
Out of Stock


Joshua Pierce with Robert White
John Cage - A Tribute
Joshua Pierce, piano & prepared piano,
with Robert White, tenor ~ AFMM Ensemble
Disc 1
1-16. Four Walls (1944) 52:25
17. Primitive (1942) 04:17
18. In the Name of the Holocaust (1942) 06:01
19. Quest (1935) 01:01
20. Our Spring Will Come (1948) 04:10
21. Prelude (Piano Sextet) for Six Instruments (1946) 04:56
22. Ophelia (1946) 05:16
Disc 2
1-19. Sonatas and Interludes for Prepared Piano(1946-1948) 50:13
20-22. Three Early Songs (1933) 03:02
23-24. Two Pieces for Piano (1946) 09:13
25. Music for Marcel Duchamp (1947) 05:04
26. Spontaneous Earth (1944) 01:36
27-29. Three Easy Pieces for Piano (1933) 02:57
30. The Unavailable Memory of (1944) 02:35
31-32. Two Pieces for Piano (1935/rev.1974) 02:43
From the liner notes of Eric Salzman:
"John Cage wrote for keyboards throughout most of his life. Most famously, he invented the so-called "prepared piano" but he also wrote for unprepared piano in both traditional and untraditional ways. His later piano works employ an almost ferocious complication and virtuosity at the outer limits of performer possibility. Earlier he used electronic extensions, chance and performer collaboration in complex ways. His early keyboard music was written for himself to play, much of it meant to "accompany" modern dance performances. Cage's piano, prepared and unprepared, was the orchestra for a whole genre of solo dance performance by some of the greatest figures of modern American dance."
This recording of Four Walls grew out of live performances by Joshua Pierce and dancer/choreographer Sin Cha Hong at the Seoul NYMAX Festival and Anthology Film Archive's Courthouse Theater in New York City on October 27 and 28, 1994, marking the work's fiftieth anniversary. Plans to extend this album as a double CD came about as a result of Mr. Pierce's brilliant and relevatory performance of the composer's magnum opus: Sonatas and Interludes recorded "live" at the Microthon Festival held at New York University on May 23, 1999, marking his twenty-fifth anniversary of live performances and his association with the music of John Cage, and in particular, Sonatas and Interludes.
A very special feature of this summation of Pierce's work with the piano music of John Cage, is the presence of two compositions here recorded for the very first time: the Prelude (Piano Sextet) for Six Instruments in A minor, from 1946 and the Three Early Songs, from 1933.
The 56-pages three languages booklet (english, italian and french) including photographs, liner notes by Eric Salzman, essay by Michele Porzio and extensive biographical notes of the performers, completes this double CD edition packaged in multipack jewel box.
This release represent a great occasion to approach, at the highest level, the early piano masterpieces of the 20th century most important and influential composer, uniquely performed by one of he's most dedicated and well known interpreters.
Joshua Pierce
One of a handful of brilliant and creative musicians of his generation, Joshua Pierce's passion and sensitivity has earned him a world-wide reputation as a prolific pianist who has forged his own individual and unique style with a vast repertoire of music spanning all eras of piano literature. His technical mastery has afforded him the ability to move easily from the concerti of Haydn, Mozart and Beethoven, to the big works of Brahms, Liszt, Tchaikovsky, Rachmaninov, to the provoking sounds of John Cage, Charles Ives, Ivan Wyschnegradsky, Harry Partch, Teo Macero, Karlheinz Stockhausen, La Monte Young, Toru Takemitsu, Swen Sandstrom, Maurice Ohana, Ben Weber, Sofia Guibadulina and many others.