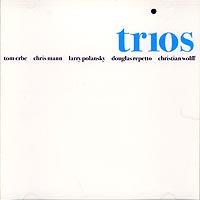 I wrote liner notes for a violinist I greatly admired once. It took forever because I agonized over every sentence, questioning the content and second-guessing myself, wondering at every word, 'Who the hell are you to tell someone else what the music sounds like or means when they have a perfectly good copy of the disc right in front of them?'. The process was so painful I swore never to take on such an assignment again.

So before I even dropped Trios into my player, I enjoyed the freedom of the completely blank cd booklet and the six untitled tracks (unless you count "track one," "track two"). Stylistically, the album is quite cohesive, arguably functioning as one long sonic event. With Chris Mann offering the largely unintelligible voice and texts, Larry Polansky plucking on fretted and fretless electric guitars, Christian Wolff at the piano, bass, percussion, melodica, Douglas Repetto adding computer and electronics, and Tom Erbe at the recording, editing, processing controls, the resulting disc is quite a ride without getting tedious like some of those computer blip-bleep constructions can be.
Not that there aren't the de rigueur beeps throughout from the computer. But somehow, with Mann chatting away in the background (to my ear often sounding like a gossipy Shakespearian nursemaid), there is a human/machine conversation going on that takes the edge off. The electronic sounds poke and prod, sometimes seeming to empathize with the vocalist and sometimes more menacing, almost keeping him captive as if he were some mad inmate of Bedlam. The other human-played instruments are only sometimes complicit in this. At other turns they're completely off in their own fields of self-expression. Now, maybe I've just been sitting next to the fax machine for too long, but the layers of after-the-fact electronic additions and editing choices over the human improv tie the package up in a way that makes it seem like the players and machines used in trios have experienced their own sort of fall of Babel and are now desperately trying to communicate with one another again.
—MS