Jorge Antunes - Savage Songs - The Squids Ear, Kurt Gottschalk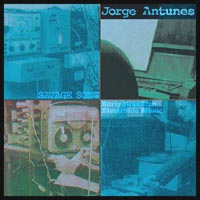 There are some stories, like The Shaggs, Milli Vanilli and Harry Partch, that just need to be told. Sound and electronics experimenter Jorge Atunes is one such story.

As a 19-year-old violin student who made extra money fixing radios, Atunes went to the first electronic music concert ever held in Brazil, a 1961 performance by David Tudor of Stockhausen's "Kontakte." Within a month, he had set up two tape recorders and a wave generator next to the piano in his parents' home and recorded his first piece.

That piece is one of 14 included on this excellent compilation, which documents the composers experiments through 1970. While all the trappings might suggest stuffy experimentalism, the tracks are brief, most of them between two and four minutes, and thoroughly engaging. Atunes is a composer, and arguably a pop composer, whose instrumental work could stand alongside such other sound fantasists as Brian Wilson, Kraftwerk and his countryman Tom Zé. But while those musicians worked in partnerships and generally with vocals, Atunes was alone, making the sounds he heard in his head and experimenting with what is now a quaint and thoroughly listenable futurism.