David Dunn's Four Electro-acoustic Compositions in All Music Guide, August 2002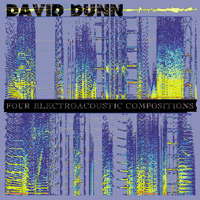 This album is the first major addition to David Dunn's discography since Innova's double CD set "Music, Language and Environment" in 1996. There has not been much of the composer to go around and these Four Electroacoustic Compositions portray another side of his work.
The four pieces, all between 10 and 15 minutes in length, date from the '80s and '90s. Some had been previously available on compilation albums. The focus is kept on the harshness of analog synthesizers, even though the sounds are processed digitally and most of the music has been obtained through the use of computer algorithms.
Central to the overall sound of the album is "Wildflowers" (1994), best described as a retro-futuristic extravaganza. For its materials it goes back to the early days of electronics, evoking the raw power (and migraines) of Stockhausen and Xenakis electronic music by way of Herbert Braun's first experiments with computer music. That sound of filtered sine waves and processed square waves permeates the other pieces too.
"...With Zitterings of Flight Released" (1993), dedicated to composer and teacher Kenneth Gaburo, then recently deceased, surfs the crest of the same analog/digital wave with better (i.e. less ear-straining) results.
"Ennoia 2" (1999) uses time-domain synthesis algorithms created by Arun Chandra's Wigout program. The music takes the form of an evolving soundscape of filtered sine waves.
"Simulation 1: Sonic Mirror" (1986) is the only piece keeping ties with Dunn's previous environmental concerns. Here, the naturally occurring sound events of an outdoor environment are synthesized and transformed by computers following variables taken from the environment. The listener is oblivious to the cybernetics in play but the complex results are fascinating (and the original sound events remain audible in the background).